If you look back, you will see that it is for the very first time in history that all humans are dealing with the same crisis. They do nothing else except to try how to survive the crisis. It can either be financially or emotionally or physically. Everyone is trying to deal with this situation but what about the entrepreneurs?
How are they facing this pandemic? Most of the experts claim that this kind of situation might occur again in the form of either a pandemic or natural disaster from climate change or anything else. So, it is better to make a strategy to run your business in such a situation.
To bring the change, you need the desire, strategy, time, energy, and many other things that's why humans are mostly now willing to change. If you do not change and stay stuck in survival mode so that you only have enough energy to think about paying your bills or employees next month, your future will surely remain uncertain. Remember that, building a more sustainable future makes more sense. It is known to us that entrepreneurs who make strategies will more likely to survive the crisis.
How to survive the Crisis?
If you are in a business that is not just about how to earn lots of money and you want to help others, then there is a chance for you in this time of crisis. You can make different kinds of positive changes in your business. For example, introduce ethical businesses, stop destroying the environment, create new green product lines, etc.
What about COVID-19?
Do you feel that things have changed since the lockdown begins? I think, yes! Because this lockdown teaches us to slow down things, how to save money, how to spend more time with family, etc. It sounds quite simple but asks yourself, do you want to create change in the world? Are you willing to invest your time, energy, or money into solving any problem in the world? If yes, then think about turning your enterprise into a social enterprise and see the change in the world.
What is Social Enterprise?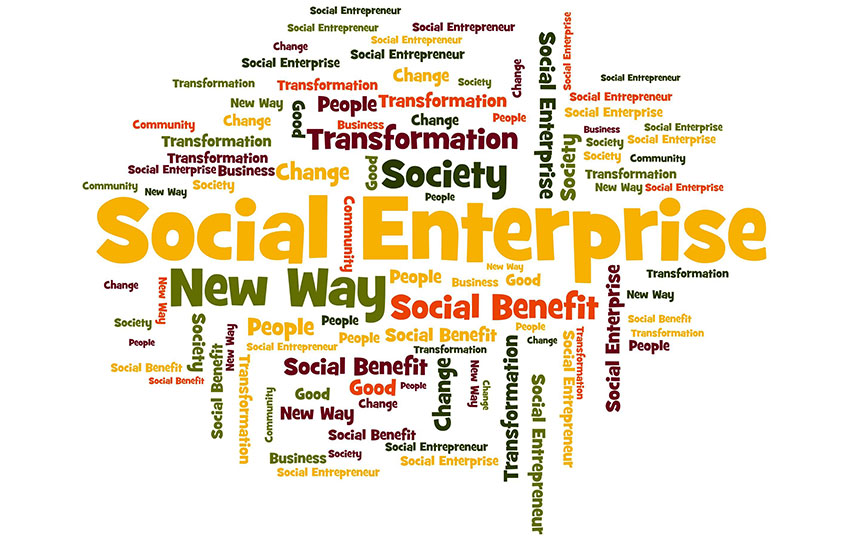 A social enterprise is a type of business that has any social or environmental purpose. It includes: to help and protect nature and animals, support research projects to avoid the same situation like this pandemic in the future, to find out a solution to world hunger, financing schools so that children will be able to learn something, and the ratio of child labor decreases, etc.
In social enterprise, you have to change your attitude towards the business. You should keep reminding yourself that you are in this business not for the sake of money but for the help of those who need it. If you do not want to do this with your whole heart and soul, then it might not be as important to you and you will not be a successful social entrepreneur.
7 Steps to turn your Enterprise into Social Enterprise:
Choose your Calling:
This step is all about considering your passion. Think of the things that you are most passionate about. You should also figure out where and how can you make the greatest impact on your business. You should go and check the 17 Sustainable Development Goals (SDGs), that the United Nations has developed, to help all the major problems that all human beings face as a society. Now, take a look at all those goals and see which goal or goals are closer to your passion. You should also look for the thing where your business can make a big difference.
Niching down to a single goal will help you to become more focused plus it will catch the attention of those customers who are also passionate about the same thing.
Consult with your team:
You should present your ideas to your team members and ask your team to give you their point of view too. Later on, you should brainstorm on how to execute these ideas effectively. It is guaranteed that your employees will be thrilled to listen about changing your enterprise into a social enterprise.
Develop a giving back strategy:
Once you and your team agree on a specific purpose and are clear about everything, then you are ready to choose your partners. In the case of this, it must be some charity partners. With micro-funding and micro-lending organizations such as B1G1 and Kiva, you can fund various projects that help reach your chosen SDGs as well as create giving backstories such as "For every newsletter subscriber, we provide a day of vaccinations for the street dogs in Nepal".
You should actively participate in volunteering projects with a few charity partners who should be as passionate about your goal as you are.
Clean up your supply chain (if you are product based):
The toughest part of converting your enterprise into a social enterprise is to clean up the supply chains. It requires a lot of money and time. Now the question arises: how much? Well, it depends on the complication of your production chains. It is not advisable to clean off the entire supply chain at once because the sudden loss in your prices will scare your customers.
You should inspect only one link at a time and try to find some more suitable alternatives. The important task is to inspire your valuable customers to offer them a better alternative. If you do these things step by step and remain honest about it, then your customers remain loyal to you and will trust you blindly.
Optimize your Business process:
You should ask your team to help you to optimize your business. You can do it in various ways. From web hosting to video conferencing instead of traveling to healthier snacks in a vending machine that uses less energy to digitalizing your internal processes and using recycled paper for necessary printouts. You should adopt different processes to make your office greener.
Communicate your efforts:
You have made a few changes, now is the time to communicate them. If you can change only one thing, then tell your customers that you are doing so because you want to improve that particular thing first, and later on you will move to the next thing.
You should properly communicate with your support team. If you do not do so, it will be a kind of dishonesty and you will lose your customers. Because it is a universal fact that it never pays to lie.
Build strong collaborations:
The new competition in the world of business is collaborations. It is a great opportunity to work with someone or a company that has the same values as yours. You do not necessarily need to collaborate with your competition. But if you get a chance to work with your competition, you should do that because if the trust and integrity are there then your values will also be aligned.
If you think about your business more sustainably and strategically, you will be more apt to survive the crisis. You should be more prepared to thrive. It is not the time to disappoint your customers. More powers to the people who want to make a great impact by stepping into the world of social enterprise! Go and grab your chance to make a change in the world!