Digital marketing involves social media platforms and electronic media to have access to the digital world. If you are wondering how digital marketing works? Here are some common queries about it which I am going to cover in this article
Digital Marketing:
Marketing is of different types. We all link digital marketing with the internet but it has to do nothing with the internet at all. It works through social media platforms includes:
Facebook
Instagram
Youtube
Twitter
Emails
Websites
Search engines
Mobile applications
Web applications
Digital marketing is a tool that has been discovered about 100 years ago. The first digital marketer uses digital signals to convey a public transmission. The radio is first invented in England.
The signals are successfully started transmitted all over the area through open water. At that time they didn't know about selling through this stuff. Later it would take about more years to reach out general public through these signals.
People started buying show tickets after the broadcast from an opera performance at the met. I am not talking about all social media from this perspective because you can lead digital marketing without these apps.
You can learn or earn from this both at online and offline status. Have you ever experienced the roadsides signs or boards written KFC, MacDonald's, on that? All those signs on the boards and content on them are the easiest way of digital marketing.
Role of social media:
Social media is playing a vital role although in digital marketing because all those billboards are going to die one day. There is so much advancement in science, technologies, and the digital world that nothing can beat the power of a single click. Social media platforms help in easy access and a more dispersed rate of advertisement in less time.
Types of digital marketing: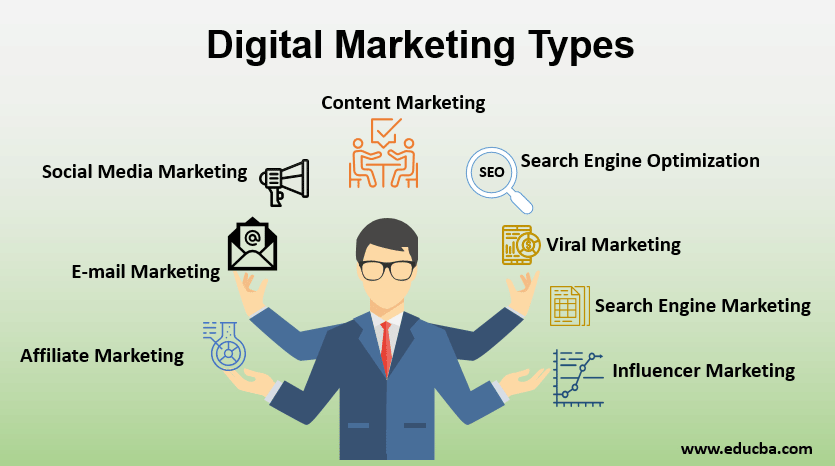 The number of people going online on a daily basis is increasing day by day. There is an increase of 5% in average usage on the internet among adults. There are two types of marketing that people use for their convenience of buying kinds of stuff
• Offline buying
• Online buying
Both of these are effective but as compared to online buying, offline is a bit not impressive in this era. You can connect with your audience with the help of marketing in no time. Any kind of marketing that is making its shape and impact is online.
There are different categories in digital marketing
1. Content marketing
Content writing involves blog posts, articles, e-books, infographics, and white papers.
2. Affiliate market
It all based on commissions that you will get on promotions. It includes affiliate links and hosting videos for paid promotions.
3. Search engine optimization
Through SEO you can rank your website on Google and other social media platforms. They are also of different types such as on-page SEO, off-page SEO, and technical SEO.
4. Email marketing
You can communicate with your audience through this. Emails are very helpful in directing people towards a particular website. They are used to promote different content. There are a whole series of emails, follow-up emails, holiday promotions, blog subscriptions, etc.
5. Search engine marketing
To increase your market there are so many soft wares. To use this software to increase searches is done through social media posts, newsletters, campaign tracking, workflows, etc.
6. Pay per click
Each time your ad is being clicked you are paying a publisher. It is a source of driving traffic on your website. They are also be done through different platforms such as Twitter ads campaigns, LinkedIn sponsored messages and Facebook ads posting.
7. Advertisement.
Role of digital marketing:
Digital marketing is an online work by using electronics. If you know about traditional then you must know about all the tools of it like print ads etc. there are limited options in an offline advertisement while online you can use various endless ways such as emails, videos, audios, ads social media platforms, and much more.
If you want to grow your business on a big platform and to enroll awareness among people regarding your business the digital market is the best working place. The website can bring a lot of traffic to your website. Every brand has its website that is used by the people for easy buying. There are also other strategies including digital content and social media presence.
Your customers can rely on your brand more in this way. All these things help create a trustworthy relationship between you and your buyers. To be a competitive seller all you need to add more tools to your business. ROI and analytics dashboards are used to monitor the success of your business. Your campaigns can also be monetized by using them.
By using numerous digital tactics you can learn and earn money in your business at a high rate in less time. It is well experienced in supporting your goals. Both free and paid campaigns are held on social media platforms to increase the selling rating.
The blog posts are also a rich source that is shared on social media platforms through organic posts. There is also a new trend called "e-book" that can be downloaded through emails and are also a rich source of the market with information.
If you are already working on digital marketing or want to work in the future all these segments are very helpful to know about the audience you are going to face. There preferences and improvements in your business growth.